Friday, May 27. 2016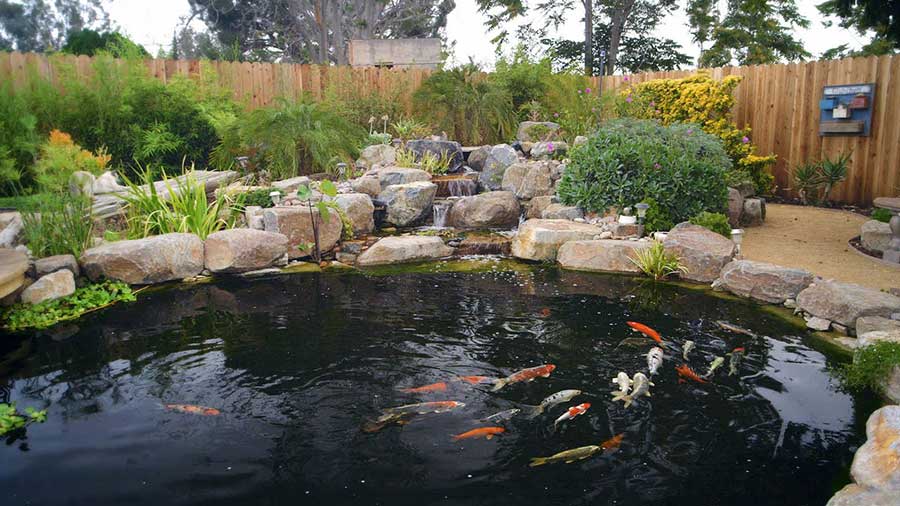 Here is a list of components needed to build a Koi Pond:
1. Pond Liner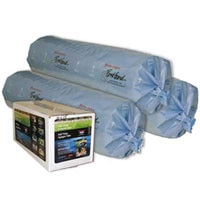 Firestone Pond Liner
At the heart of thousands of decorative home water features are Firestone PondGard Rubber Liners. Combining flexibility and ease of installation with lasting durability.
Simple to install and repair – no special tools needed.
Safe for fish and plant life.
UV, weather and algae resistant.
Extreme conformability allows for endless design possibilities.
2. Pond Underlay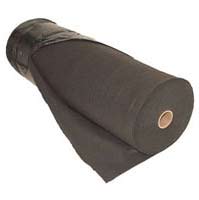 Pond Underlay
Underlay is a black polypropylene, nonwoven, needle-punched fabric. It may be used as a separator matt (under EPDM membrane), as a drainage filter fabric, or as a stone mat protection above the liner.
3. Pump
There are a variety of choices when it comes to selecting a pump for your koi pond. This is because every pump is designed for a certain application. Some pumps will push the water very high and other pumps will pump a great deal of water but will only lift the water a few feet. Before purchasing your pump, make sure you know how high the water will pump, how far the water will pump and in the case of a stream or waterfall, how wide the water course will be. Other considerations are power consumption, cord length and warranty. Below are some popular choice for koi ponds.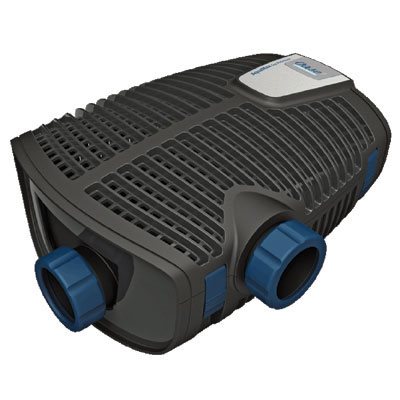 OASE AquaMax Eco Premium
Dual suction, solids handling, frost protection down to -8F, intelligent pump protection from thermal overload, and blockage and dry running makes these the most advanced pumps on the market; and all of this while reducing energy consumption by 40%, even when compared to OASE previous generation AquaMax pumps.
OASE ProfiMax


ProfiMax is ideal for larger installations that demand high flow rates and in which the pump might be exposed to high amounts of debris (Koi ponds, E.g.). The stainless steel strainer and impeller are built tough and designed to withstand virtually any conditions found in a backyard pond.
As with all OASE pumps, ProfiMax features state of the art motor technology with built-in thermal overload and frost protection.
4. Filter
OASE BioSmart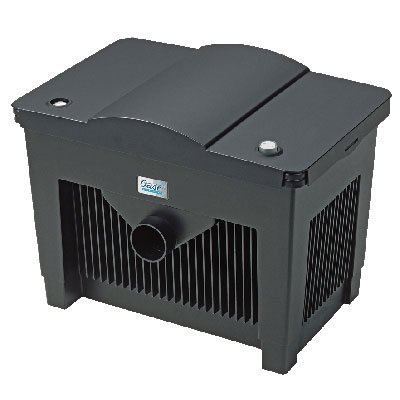 BioSmart filters are packed with features and filtration capacity. The high-surface area filter foams provide exceptional biological filtration capability with respect to size of the filter.
The unique design of the water flow through the filter collects debris at the filter bottom and reduces clogging of the foams. Any clogged-up foams can easily be freed up via the built-in cleaning mechanism, so there is no need to remove (and possibly damage) the filter foam from their mounts. It also makes filter maintenance fast and neat.
OASE FiltoClear PRO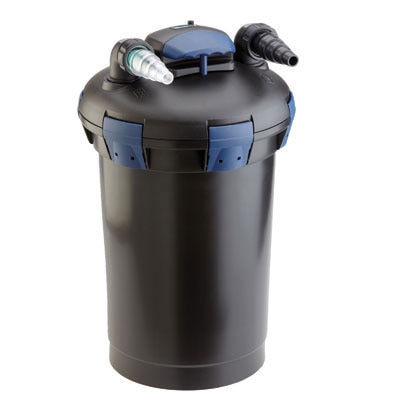 The FiltoClear pressure filter is a compact all-in-one pond filtration system with the fastest and most convenient cleaning mechanism on the market. The FiltoClear system includes a built-in UV Clarifier with bypass for optimal efficiency at low power usage. The built-in cleaning mechanism makes filter maintenance possible in a matter of minutes. FiltoClear systems can be installed unobtrusively by burying up to 2/3 of the filter below ground.
OASE BioTec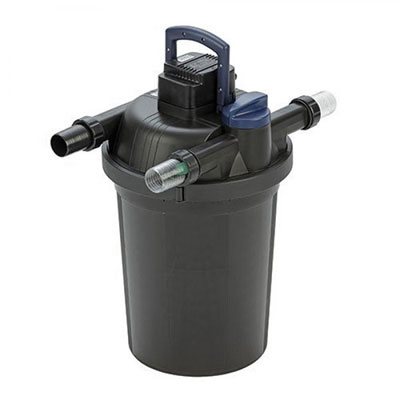 The BioTec Filter are a multi-stage mechanical and biological filtration system in a compact package, designed for larger ponds or for ponds with high biological load (many fish).
Mechanical filtration allows for the screening of particles and debris which are caught by the 300-micron mesh, which is cleaned automatically at regular intervals. BioTec Filters are the first and only products on the market that offer automatic debris separation.
5. UV Clarifier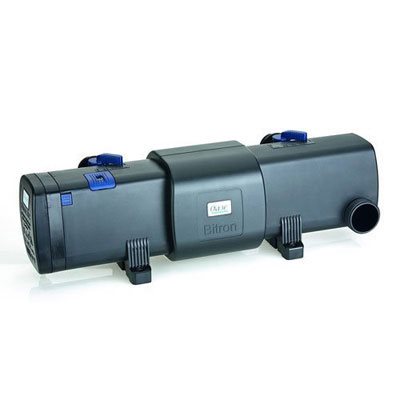 OASE Bitron C
Bitron C is the newest revolution among UV Clarifiers with the highest level of efficiency thanks to an even longer water dwell time (time in which the water is in contact with UV light). Irradiation times are regulated automatically and thus energy costs are reduced by as much as 50%.
The Bitron C becomes one of the most efficient UVC reactors in controlling algae and bacteria, through a combination of strong features, such as irradiation capacity, water dwell time and thorough mixing.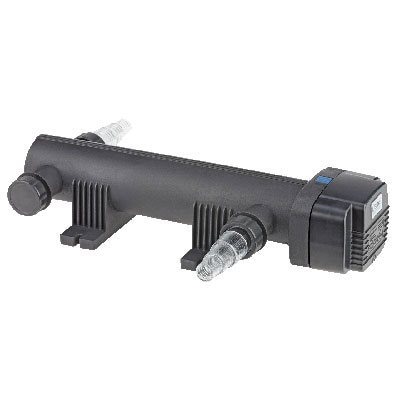 OASE Vitronic
This compact design allows for easy installation. The quick-lock ballast head makes changing the UV bulb a breeze. UV operation can be safely monitored through the included large aperture viewer. Vitronic becomes a modular part of the filter system, with no extra plumbing needed. The clarifier simply hooks onto the filter box with all accessories included.
6. Air Pumps (OPTIONAL)
Aquaoxy Air Pump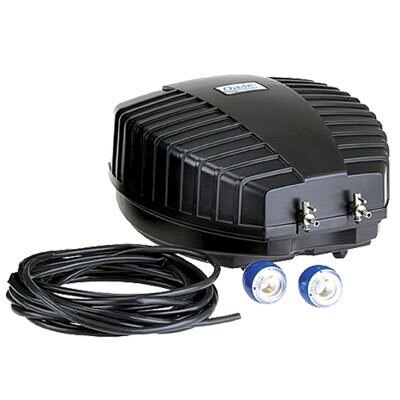 Air injection is a great aid in ensuring a healthy pond environment and water quality. May of the biological processes in the pond - such as breakdown of harmful waste products - require oxygen in order to happen efficiently. Set at the side of the pond, AquaOxy is a safe and efficient way of increasing oxygen levels in the pond.
Charles Austen Air Pumps


Enviro linear air blowers/aerators are designed for use in residential aerobic treatment units/ATU's.
Energy efficient motors low power consumption.
Specially formulated diaphragm material for extended life.
Due to no wearing parts no reduction in performance.
Robust and company construction – weatherproof.
Suited to intermittent and continuous duty applications.
Whisper quiet operation as low as 35dB.


Typhoon Air Kit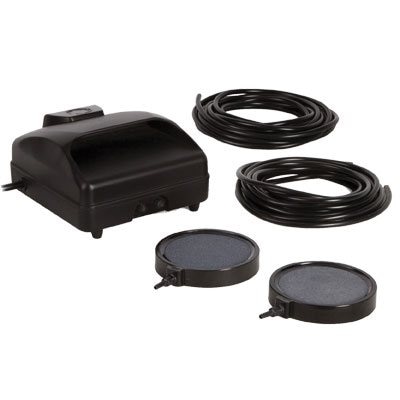 Atlantic's Typhoon Air Pumps feature weatherproof, continuous duty diaphragm compressors specifically designed for year-round usage.
Ideal for aeration and circulation in warm weather, these aerators are especially dependable for de-icing and gas exchange in freezing weather, unlike floating de-icers that often fail under harsh conditions.
With diffuser options for ponds from 1,000 to 12,000 gallons, Typhoon Air Pumps adapt to most backyard ponds. Best of all Typhoon Air Pumps are easily rebuildable and exceptionally efficient!
7. Tube, Parts & Tools
We maintain a large inventory of flexible pvc pipe, vinyl tubing, non-kink hose, suction hose, lay-flat hose and non-toxic pvc braided hose.
8. Skimmer (OPTIONAL)
Skimmers are listed as optional as they should only be used in installations where there are a lot of trees or large shrubs. Skimmers are designed to remove leaves, sticks, needles etc. from the surface of the pond before they sink to the bottom. This prevents the buildup of muck at the bottom of the water garden over time and muck causes algae! There are several sizes and designs listed below.
Aquaskim In-Pond Skimmer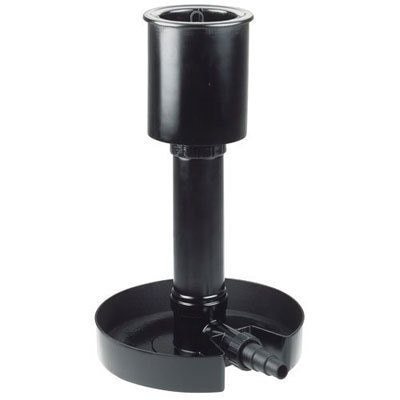 The AquaSkim is a in-pond skimmer that effectively removes leaves and other debris from the pond surface.
AquaSkim automatically adjusts to a drop in water level (up to 6"). Since the liner does not need to be cut for installing AquaSkim, it is also an ideal retrofit for existing ponds.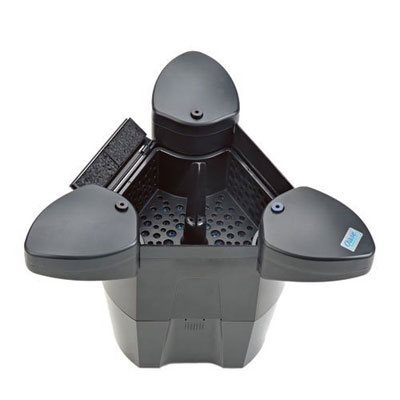 OASE SwimSkim
The SwimSkim floating in-pond skimmer is the ideal addition or retrofit to any pond. In addition to removing leaves and dust from the water surface, the SwimSkim also improves water quality by increasing water circulation and air injection.
SwimSkim can be installed in existing pond without modification or cutting the liner. It automatically adjust to varying water levels.
9. Lighting (OPTIONAL)
Light is one of the most important elements in your homes landscape. At Van Isle Water, we carry a wide selection of LED & Halogen fixtures, submersible lights, bulbs, transformers & accessories.