Friday, October 30, 2015
Kasco 2400SF XStream Fountain
1/2 HP fountain is perfect for virtually any small decorative pond application.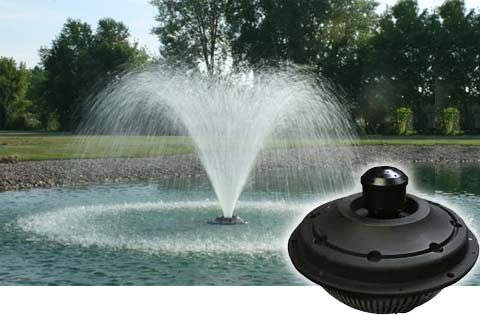 We are very excited to introduce the newest member to the Kasco fountain line, the xStream Fountain. Developed to serve the needs of customers wanting a small pond fountain with large, laminar displays at an affordable price.
Differing slightly from Kasco's normal design, this is a 1/2HP, High RPM motor as opposed to the normal low RPM. The high RPM design allows for the creation of more pressure which leads to larger, laminar display patterns. Amp draw varies between 6.6 and 7.2 depending on pattern choice, but is still reasonable and will not cost the customers a fortune on their electric bill.
Another unique aspect is the amount of patterns that are included with this fountain. A single nozzle and flow straightener allows for over 30 unique laminar flow patterns with a max height of 8.5'. A set of rubber plugs are included for the customer to "custom design" their own displays, or remove the nozzle and flow straightener for a beautiful, tall V shape pattern to satisfy virtually any small pond application.
The 2400SF, xStream is available with 50', 100', 150', or 200' cord lengths. Up to 100' cord units are shipped nearly completely assembled in 1 retail friendly box. Mooring ropes are also included and the compact design only requires 15"" of water for operation. It also includes the C-25 control panel with timer, gfci, photo sensor and plug in. Mooring lines are included to make this offering one more that is "Plug and go". You just supply the power to plug into as well as the pond.
The complete package is approved to CSA standards. Kasco's new LED 3 light kit is the perfect complement to the xStream for beautiful nighttime displays.