Tuesday, September 1, 2015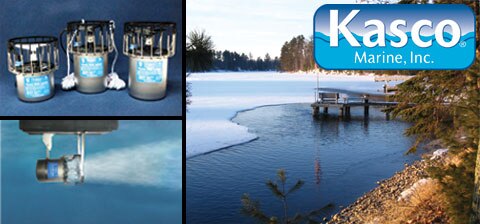 Kasco is the Leader in Ice Control Engineering
Kasco De-icers are perfect for preventing costly ice damage due to jacking/lifting, ice expansion, and winter-kill conditions.
Kasco De-Icers are industrial strength and designed and engineered to withstand the harshest marine environments making Kasco THE LEADER IN ICE CONTROL ENGINEERING!
Check out the Kasco De-Icing Guide
Kasco Marine, Inc. offers several sizes, models, and mounting options of De-Icers to accommodate almost every application and condition.
With sizes of 1/2, 3/4, and 1hp and units available in 120V or 240V, Kasco De-Icers easily fit your location and electrical requirements. Kasco De-Icers can be suspended by ropes, mounted on an optional Universal Dock Mount, or attached to an optional Horizontal Float for operation in many conditions. Also, optional De-Icer Controllers (C-10 and C-20) can be added to the De-Icing system to help control electric bills.
Model
Size
Voltage
Running Amps
Thrust (lbs.)
Shipping Wt. (lbs.)
Typical Open Area*
2400D
1/2hp
120V
5.0
26 lbs.
25 lbs.
Up to 50 ' Diameter
3400D
3/4hp
120V
6.7
34 lbs.
35 lbs.
Up to 75' Diameter
4400D
1hp
120V
11.2
52 lbs.
40 lbs.
Up to 90' Diameter
* Small bodies of water, the Great Lakes, and extreme northern climates may see less open water areas.
Each De-Icer boasts the following staples of Kasco equipment:
Longer-life top and bottom ball bearings
Environmentally friendly oil-filled motor with a hard-face internal mechanical seal and external lip seal for protection against leaks.
Flood oil lubricated for excellent heat dissipation.
Highly efficient, lower power consumption than competitive equipment
Superior dependability in salt-water or other corrosive environments. All external metal motor, float, and hardware components are of stainless steel composition and protected by a sacrificial zinc anode.
Requires minimal maintenance. We recommend cleaning the stainless steel motor housing once or twice per year and replacing the sacrificial zinc anode when visibly corroded.
Extremely efficient and productive operation generating excellent flow per kW of power used
ETL listed to stringent UL and CSA Safety Standards
U.P.S. Shippable
Made with pride in the U.S.A.