Friday, April 22, 2016
Pond free features provide all the visual interest without the care and upkeep of a pond eco-system. There is no open water to collect debris and it can be turned on and off, unlike ponds.
Did you know that you can build a waterfall, stream or creek that runs through your property without having to maintain an entire pond? When done properly, the stream will look natural and "ageless", as if it has always been there. The best way to accomplish this is to choose a location with a slope. If you don't have much of a slope to work with, as an alternative you can choose to create water flowing from a boulder or rock grouping.
Here is a list of components needed to build a Pond-Free Water Feature:
1. The Pump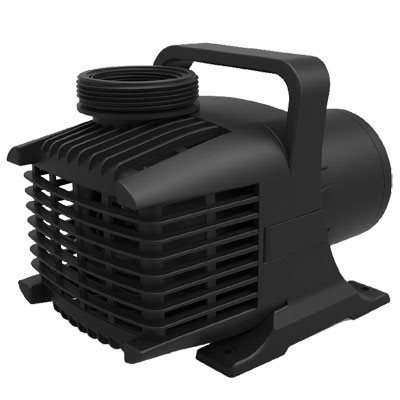 Tidal Wave TT
TidalWave3 Pumps are the next generation of ultra-high efficiency asynchronous pumps, with more water moved per watt than ever before!
Offering flows from 1500 to 9000 gallons per hour, these powerhouses are also remarkably compact and fit in the tightest spaces, opening up a whole new range of applications.
The TT-Series Pumps are specifically designed to be clog-resistant and hard water-tolerant, making them the perfect choice for waterfalls & filters.
Large threaded inlet and outlet for less restriction and greater flows.
Quarter-turn volute provides access to impeller without the use of tools.
Heavy duty pre-filter locks in place. Large openings increase surface area and resist clogging.
The vane hybrid impeller improves flows and passes solids easily.
All models feature 20' power cord and 3 year warranty.
2. The Eco-Blox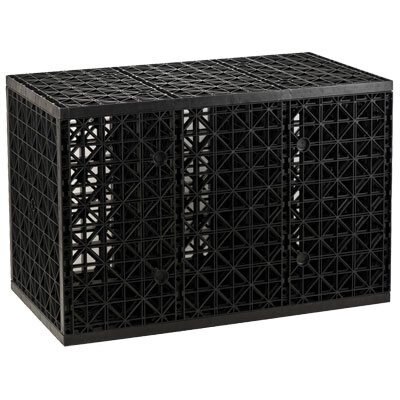 Atlantic Eco-Blox
The redesigned Eco-Blox provides the same amount of storage, with improved strength and durability. The new triangle-shaped openings allow for greater water flow while preventing solids from slipping through.
Holds 3X more water than gravel pits.
8 panel construction for exceptional strength.
31.5 gallons water storage.
3. The Pump Vault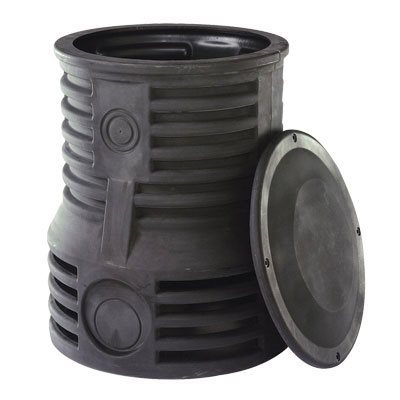 Pond Vaults
The heavy duty one piece design of Atlantic's Pump Vault can accommodate large pumps and flow rates up to 15,000 gph. Features include large openings for pump access, cut lines for pump and flat panels for custom discharge and pipe extensions.
Stronger, high density polyethylene.
Pre drilled for 2" discharge pipe.
One piece design.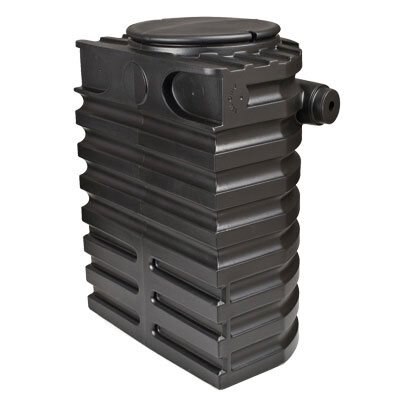 Oasis Pond Vault
Inset lid keeps gravel from falling into the vault.
Pump discharge step fittings for 1 ½" & 2" pipe provided on both sides of the vault.
Flat front panel installs tight against the Eco-Blox for a compact basin.
Recessed pockets accept Triton 3-way Diverter for use with the Eco-Rise.
Flat panel for 1 ½" pipe for use with the Eco-Rise.
10" Access lid.
4. The FastFalls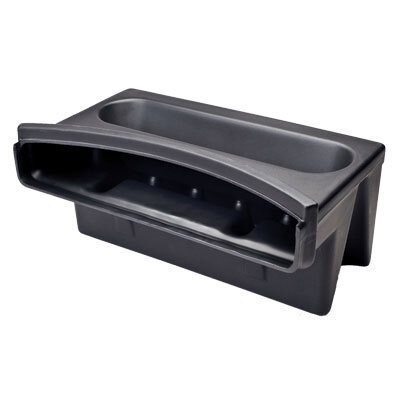 Pro-Series FastFalls
These incredibly strong one-piece units feature an internal baffling system, support cones and reinforced spillway.
The "inside the liner" design plus liner attachment simplifies installation and eliminates leaking. The top can be covered with rock, gravel, soil or mulch to blend seamlessly with the surrounding landscape.
Raised front radius holds back any loose gravel, soil or mulch used to camouflage the top of the unit.
Connection 19" & 26" – 2", 36" – 3".
5. The Pond Liner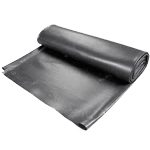 Firestone Pond Liner
At the heart of thousands of decorative home water features are Firestone PondGard Rubber Liners. Combining flexibility and ease of installation with lasting durability.
Simple to install and repair – no special tools needed.
Safe for fish and plant life.
UV, weather and algae resistant.
Extreme conformability allows for endless design possibilities.
6. Pond Underlay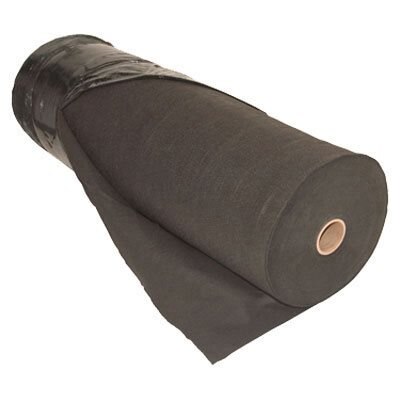 Firestone Pond Underlay
Underlay is a black polypropylene, nonwoven, needle-punched fabric. It may be used as a separator matt (under EPDM membrane), as a drainage filter fabric, or as a stone mat protection above the liner.
7.Tubing, Parts & Tools
We maintain a large inventory of flexible pvc pipe, vinyl tubing, non-kink hose, suction hose, lay-flat hose and non-toxic PVC braided hose.
8. Universal Check Valve (OPTIONAL)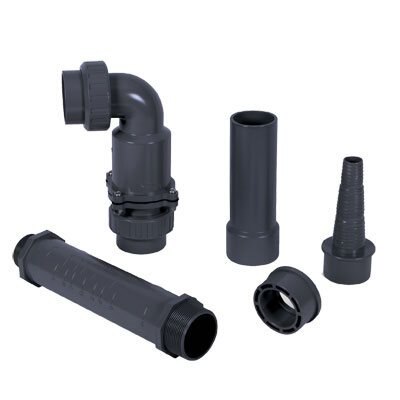 Atlantic Universal Check Valve
This Check Valve is the only check valve designed exclusively for the water garden industry. The 'swing style' Triton Check Valve features a 2" socket union on the inlet, 2" and 1 ½" socket unions for the outlet, a molded-in 90° elbow, and a slim design that allows clearance when installed with direct drive pumps.
Molded "perfect-cut" dimensions to identify proper lengths for Atlantic products and cut-to-fit 1" increments on the reverse side.
Works with all 1 ½" and 2" pump outlets.
Maximum assembled height of 17" (form the pump discharge to the center of the outlet pipe).
Can be extended to any length using 2" Schedule 40 fittings.
9. Lighting (OPTIONAL)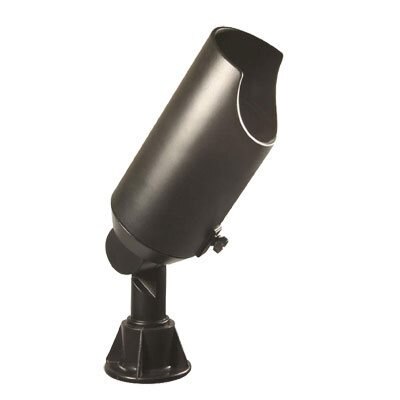 Landscape Lighting
Light is one of the most important elements in your homes landscape. At Van Isle Water, we carry a wide selection of LED & Halogen fixtures, submersible lights, bulbs, transformers & accessories.